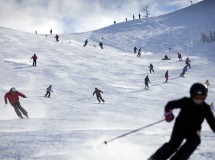 Alpine skiing and snowboarding
The Ski- and Board Arena Werfenweng is a medium sized ski area guaranteed to have snow with 30km of runs, 2 gondolas, 2 chairlifts, and 5 rope tows. One of the gondolas starts directly from the village center, a five minutes' walk from the Deublerheim. The ski area is both suitable for beginners as well as challenging for the experienced. There are also various options for off-piste skiing. The Zaglau Arena is perfectly suited to the beginning skier and boarder. Guests at the Deublerheim who would like to buy a multi day ski pass can receive a sizeable discount.
Ski&BoardArena Werfenweng
Ski school Pro Werfenweng
Sport 2000 Brandstätter (ski rental)
Download Ski Area Map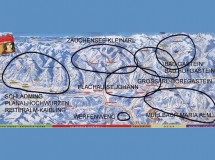 Alpine skiing in the Amadé-areas
Werfenweng lies in the midst of the superpower ski areas Flachau, St. Johann-Alpendorf, Schladming, Altenmarkt Zauchensee, Gastun and Hochkönig. These ski areas are united under one ski pass: the Ski Amadé. This gives a combined total of 270 lifts and 860 km of runs, and means that this single pass is accepted at all these ski areas. Werfenweng is within a half an hour of most access points to these ski areas, making it a fantastic starting base.
Ski Amadé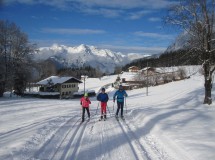 Cross-country skiing
Trails start directly from the backyard of the Deublerheim. 30km of trails (classic and skating) for all levels, from beginner to experienced, are prepared in wintertime on the hilly Werfenweng plateau. There are 13km of skating tracks. Many charming huts and restaurants can be found along the trails. Ski lessons are also available in Werfenweng.
Download Trail Map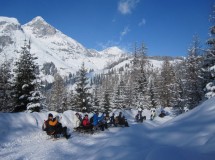 Winter hiking, sledding, and skating
For fans of sledding, there are 4 luge runs. The longest (5km) starts at Strussing and can be reached by gondola and 4-person chairlift. The mountain station at the top of the new gondola from the village is the starting point of a spectacular luge run with hairpin turns. There are gorgeous packed trailed for winter hikers around the village and towards the valley, as well as small (packed by snowmobile) paths through the forest. Skating is possible on the Badesee.
Download Map Winter Hiking Routes and Rodelbanen (Luge runs)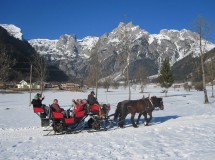 Horse-drawn Sleigh Tours
The beautiful alpine valley of Werfenweng is the perfect setting for romantic, horse-drawn sleigh rides. Both smaller and larger groups can be picked up from the Deublerheim. The sleigh ride tours over the snow-covered fields to the end of the Wengerandal, where visitors can grab a bite to eat at the Gamsblick or Wenghof Lodges.
More information Sleigh Tours Werfenweng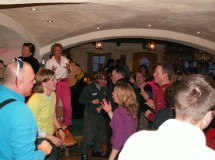 Après Ski
Those whose winter sport vacation focus is solely on Après-ski are better off choosing another setting. But for those who find a quieter party atmosphere fun enough, Werfenweng still has plenty to offer with the Liftstüberl, the Stroblhaus, and the VIP-Bar. Larger groups can even organize a private Après-ski at the Liftstüberl, a party that can compare to the happenings in Flachau or Saalbach-Hinterglemm.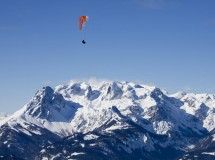 Paragliding
The 1850m high Bischling is not only Werfenweng's ski mountain, but also one of the best starting points in the Alps for paragliding. Jumps can be made from two sides of the mountain, so wind direction is rarely a problem. Solo jumps require a "flying license" and plenty of practice, but a tandem jump with an instructor is a fantastic experience for everyone who can summon up the courage!
Paragliding Werfenweng
Tandem jumpsWerfenweng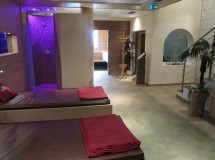 Sauna/Swimming Pools/Spas
The Sauna/Wellness Center at Hotel Wenger Alpenhof is open to outside visitors. The same goes for the 4 star Superior Hotel Mountain Resort Werfenweng. On offer are various saunas and indoor/outdoor pools. Two indoor pool paradise parks are located within a 20minute drive from Werfenweng: Thermé Amadé in Altenmarkt and the Aqua Salza in Golling. Wenger Alpenhof Bergresort Werfenweng Therme Amadé AquaSalza
Wenger Alpenhof
Bergresort Werfenweng
Therme Amadé
Aqua Salza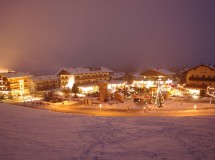 Winter outings/daytrips
For those whose interests lie elsewhere than in snow sports or swimming, there is still the option of city daytrips. Salzburg is easily accessible by public transport, with an additional bus with special service to Salzburg from Werfenweng also often available. The large Christmas markets are a major attraction in the weeks leading up to Christmas. Furthermore, children and adults alike will enjoy a visit to the Haus der Natur. The smaller cities nearby Werfenweng, Bischofshofen (known for ski jumps), and St. Johann im Pongau, are definitely worth a visit. Both cities offer a wide selection of shops. In the time prior to Christmas there are many Advent markets in these cities, as well as in Werfenweng.
Salzburg
Bischofshofen
St.Johann im Pongau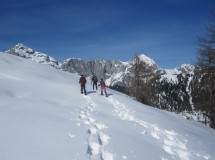 Snowshoe tours and Tour skiing
The magnificent alpine area around Werfenweng and the foothills of the Tennengebirge are excellent for gorgeous snowshoe and tour skiing excursions. A downhill snowshoe tour (gondola up and more than 900m in altitude back down through powder snow) is definitely recommended! There are 2 marked snowshoe trails.
Download Map Snowshoe Trails